Source MSN
Millennial motivation guru Simon Sinek, who analysed why great leaders inspire us, narrowed it down to what he termed the world's simplest mantra. According to Sinek, the formula was to get people to believe why you are doing something rather than focus on what you are doing or how you are doing it. Civil rights activist Martin Luther King Jr inspired the American masses not just by what he was doing but because he was able to convince them that they were doing it for themselves. As Sinek puts it, "Martin Luther didn't say I have a plan. He said I have a dream." And that then became a collective dream.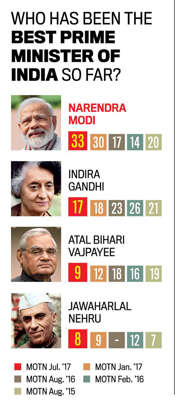 © India Today That approach possibly explains why Prime Minister Narendra Modi remains the nation's tallest leader across the political spectrum as the latest India Today-Karvy Insights Mood of the Nation (MOTN) survey reveals. Take, for example, the support Modi continues to enjoy for his controversial decision to demonetise high-value currency notes last November. It put the nation's financial system in disarray, caused enormous inconvenience to the aam aadmi and its gains are yet to be quantified. In his Independence Day speech, Modi did mention that Rs 3 lakh crore of unaccounted wealth came back into the banking system because of demonetisation. But so far, the RBI has not brought out a detailed cost-benefit analysis. Meanwhile, there is growing evidence that demonetisation may have resulted in a major loss of jobs (1.5 million, according to the CMIE, or Centre for Monitoring Indian Economy) and a drop in the country's Gross Domestic Product (0.5 per cent is the consensus).
After Ladakh skirmish, China troops likely to target other border locations, warn Intel inputs

After clashing with Indian forces in Ladakh on Tuesday, the Chinese Army is now likely to create tensions in Arunachal Pradesh, Uttarakhand, Sikkim and Himachal Pradesh.

India Today

Rahul Gandhi's close aide Ashish Kulkarni quits, calls Congress nepotist

Kukkarni, who has been associated with the congress coordination committee (war room) since 2009 has raised many questions regarding the current situation in the party.

India Today

It's Gone Viral: Baby falls asleep during photoshoot, Daniel Craig to return for James Bond movie; more

This section of It's Gone Viral videos contains the footage of a baby that fell asleep during a photoshoot and has got as many as 5.5 million views.

India Today
Yet, as the MOTN poll shows, an overwhelming majority of those surveyed rate the demonetisation drive, the crackdown on black money and a corruption-free government as the single biggest achievement of the Modi government so far. The prime minister's nationwide sanitation drive, the Swachh Bharat Abhiyaan, surgical strikes against Pakistan-based terror groups, efforts to improve the infrastructure, and pro-poor and farmers' schemes-all these pale in comparison to the support he gets for his anti-corruption drive.
By focusing on ridding the nation of corruption, Modi has correctly gauged the true mood of the nation, the reason why people gave him a majority in the 2014 general election. The Manmohan Singh-led UPA government ran out of steam in its second term because of the devastating perception that it had become venal and effete. The string of scandals-from the Commonwealth Games heist to the great coal scam to the undervalued sale of 2G telecom spectrum-saw the public demand action against corruption. What people yearned for was not just someone who could govern the nation but a leader who could clean up the crooked and immoral system of governance. Modi rode to victory on such a promise.
In the three years that he has been in power, he has taken numerous measures to strike at the roots of corruption and black money. Most importantly, he has been able to effectively communicate to the electorate why he was doing it. So, at the peak of the demonetisation drive, when people joined the serpentine queues in front of banks to withdraw their own money, he expressed his anguish, but reminded them of why they were doing it. That demonetisation was a great leveller and those with ill-gotten gains were finally getting their comeuppance. That his government was acting on the people's demand for a clean government and tough action against those who had stashed away cash illegally. Even the other major reform of his government, the Goods and Services Tax, was presented as not only something that would benefit the consumer by reducing prices but also help in reducing tax evasion and bribes. In all these, Modi was constantly focusing on the 'why' rather than the 'what' or 'how' to convince people of his narrative.
<
There are other qualities that Modi has exhibited and which has propelled his image to stratospheric heights. The prime minister is now rated as the best leader the country has had since Independence, ahead of even Jawaharlal Nehru, Indira Gandhi and Atal Bihari Vajpayee in the MOTN poll. In terms of his government, if elections were held today, the NDA is likely to win 349 seats, just a slight drop from the 360 projected in the previous MOTN conducted in January 2017. The UPA is a distant second, with just 75 seats, while the other opposition parties get a paltry 119.
Significantly, for the second consecutive MOTN survey, the BJP can garner a majority on its own; the current MOTN projects a win of 298 seats. The fact that Modi and the BJP have been able to hold their own despite the downturn in economic growth caused by demonetisation indicates that the ruling party is well-positioned to return to power in 2019 if the trend continues. And these results were before Bihar chief minister Nitish Kumar dumped the mahagathbandhan and returned to the NDA. If his party, the JD(U), has a poll alliance, then the NDA's tally would cross 400 seats in the current scenario.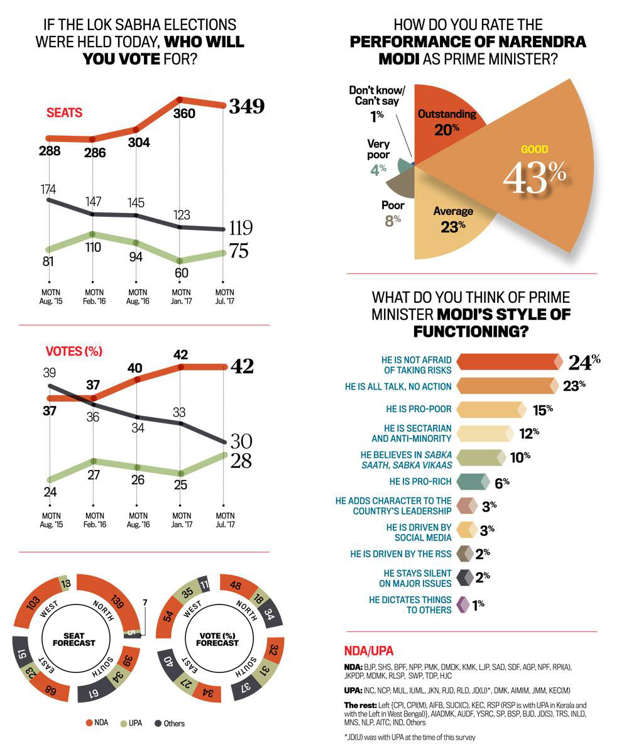 © India Today To understand the Modi phenomenon, let's fall back once again on Sinek who outlines 10 rules for super success: break the rules, train your mind, be patient, take accountability, outdo yourself, stack the deck, be the last to speak, be authentic, find your passion and start with why. Go down the list and you find Modi checks all the boxes. He has broken the rules of the game constantly, as exemplified by the surgical strikes and demonetisation. In the last three years, he has constantly outdone himself and his rivals. He is willing to take accountability for all his actions. In cabinet meetings, he listens to his colleagues and is usually the last to speak. When he does interject, it is with clarity, passion and authority, always outlining a larger vision. That is perhaps why the MOTN survey shows that 63 per cent rate his performance as PM as good to outstanding and only 12 per cent put him in the poor to very poor category.
Yet Sinek's rules are inadequate to explain why India remains in thrall of Modi even after three years in power. One reason is that Modi is perceived as a strong and decisive leader willing to pursue a vision of modern India that he wants people to be inspired by. He has set a personal example by ensuring that merit prevails when it comes to appointment of central government bureaucrats. He is a hands-on administrator and personally monitors all the programmes he has launched, getting his ministers and officials to make PowerPoint presentations of the progress they have made.
His cabinet colleagues say the prime minister has a long memory, is an avid listener, and has an eye for detail. As one of them puts it, "He tracks ideas from the concept stage to the narrative and then their implementation." Modi has harnessed technology to enhance governance and to simplify and speed up government procedures. To convey his message, he has even coined catchy slogans and sayings. In Parliament, commemorating the 75th anniversary of the 1942 Quit India Movement, Modi suggested that the famous slogan Karenge ya marenge (Do or Die) should be modified to Karenge aur kar ke rahenge (Will do, come what may). In his Independence Day speech, the prime minister advised people to eschew the chalta hai (anything goes) attitude and move towards a badal sakta hai (can change) attitude.
© India Today When it comes to the prime minister's style of functioning, the MOTN survey throws up interesting and contrasting findings. Topping the list is admiration for his ability to take big risks fearlessly (24 per cent respondents). But the poll also sends him a stern warning. An almost equal number believe that Modi is all talk, no action, indicating that he must begin to deliver on the 99-odd schemes he has kicked off. There is a section that still believes that the prime minister is sectarian and anti-minority. Gau rakshak zealots have added to that image by taking the law into their hands; such elements need to be dealt with firmly. Modi did send out a strong message to curb such violence recently, including in his Independence Day speech. While the respondents acknowledge his pro-poor image, they show a lukewarm response to his farmers' schemes.

© India Today The survey also sends other warning signals to the prime minister. Most importantly on the unemployment front where people's worry about the lack of jobs has grown since the last MOTN poll (see Worry Lines for the Economy, page 38). It is not as if the Modi government has done nothing. His focus has been on massively increasing government spending on infrastructure, particularly the labour-intensive roads and housing sectors. These should pay dividends in terms of jobs in the coming year, apart from the various development schemes that Modi has launched. The prime minister has also shifted the narrative by exhorting the young to be job creators instead of being job-seekers and make full use of the self-employment schemes his government has launched.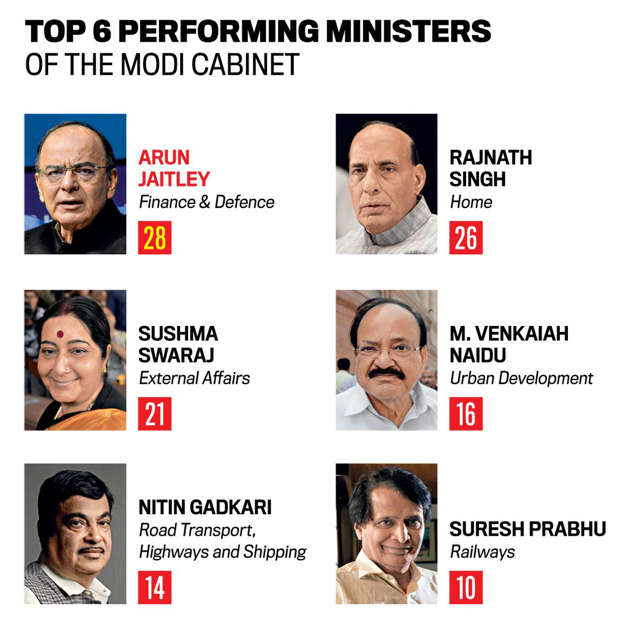 © India Today Never tiring of pushing the envelope, the Prime Minister has already articulated a vision for a 'New India' to be achieved by 2022-when India completes 75 years of Independence. In his I-Day speech, he said, "I want Team India to run for a New India by 2022. By then the poor should have concrete houses, the farmers should have doubled their income, youth and women should have ample opportunities to thrive. It should be a clean India. An India free of casteism, communalism, corruption and nepotism." In doing so, Modi has smartly sent a message to the voters that he is looking beyond 2019, when his re-election comes up. Like Martin Luther King Jr, he has outlined a vision, which gives people the reason 'why' they should vote him back to power. Management gurus should line up to take lessons from him.